The herbal medicinal product Esberitox Compact 5-fold concentrated power against common colds
Modern research makes it possible: Esberitox COMPACT contains the so-called immuno-active complex of Esberitox in a special highly concentrated form.
In this herbal medicine of the latest generation with scient­ifically proven efficacy a precisely specified formulation of the herbal active sub­stances Thuja, wild indigo and cone­­flower is mixed, gently extracted and con­centrated up to 5-fold. The result: a highly effective herbal mixture combining the antiviral and immuno-stimulating properties of the three medicinal plants.
The herbal medicinal product Esberitox
Esberitox contain - like Esberitox COMPACT - the original immuno-active complex, however, in a lower dosage. Therefore, they are also well-­suited for children from the age of 4 years.
product profile
Active substances: Thuja, wild indigo and coneflower
For supportive therapy of viral common cold diseases
Shortens viral respiratory tract infections by 2 – 3 days2
Authorised for children from the age of 4 years
With fresh lemon flavour
Free of sugar, gluten and lactose
vegan
Another Esberitox product Esberitox mono Tropfen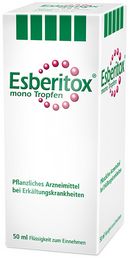 The herbal medicinal product for short-term use, for the prevention and treatment of common cold diseases.
product profile Esberitox mono Tropfen
Active substance: pressed juice of purple coneflower herb
Direct antiviral effects, activates anti-pathogen scavenger cells
Approved for adults andadolescents form the age of 12 years
1 16 mg dried extract of herbal active ingredients per tablet, compared to 3.2 mg herbal extract in Esberitox Tabletten.
2 Study conducted with a product with identical active ingredients. Source: Henneicke-von Zepelin, H.-H., et al., Current Medical Research and Opinion, Vol. 15 (1999): 214-227.